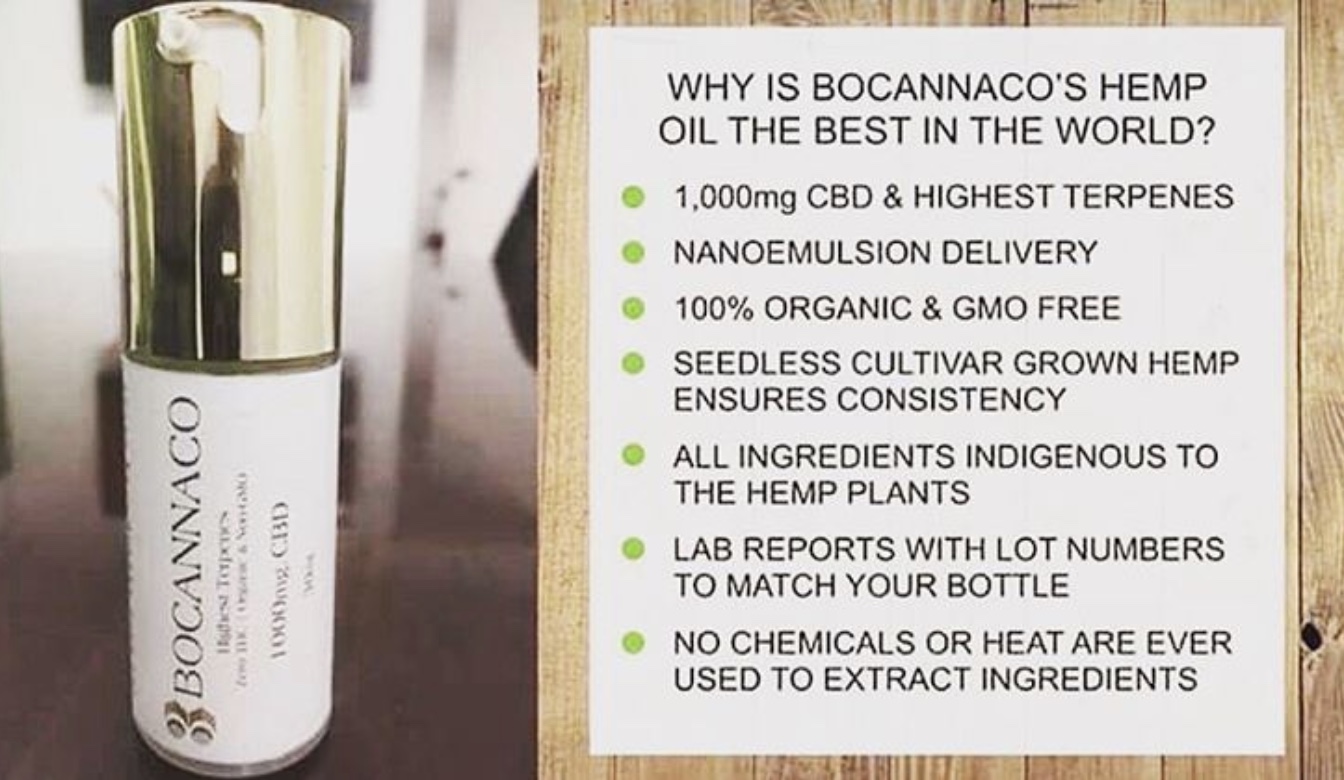 The results we're getting are off the charts because we have a product that is pure, 100% organic, and non-GMO!
What is CBD
CBD vs THC Cannabidiol (CBD) is a cannabinoid that is found in the cannabis plant. There are many different kinds of cannabinoids found in cannabis. You may be familiar with a more commonly known cannabinoid, THC, which differs greatly from CBD. Our oil contains 1,000mg. of CBD and zero THC! Unlike THC, CBD does not have a psychoactive effect. This means you can enjoy the benefts of Bocannaco's CBD oil without the "High" feeling. We also include other important ingredients directly from the plant to increase the chances of efficacy, such as: CBG CBD CBN THC CBC THCa CBD
What is the Endocannabinoid System
It was discovered in the early 90's that our brains and immune systems have receptor sites, known as CB1 and CB2 receptors. These receptors interact with compounds naturally produced in our bodies, also known as cannabinoids. This is known as the endocannabinoid system. Once cannabinoids bind with the receptor sites, they can affect our:
• Pain
• Sleep
• Immune Function
• Infammation
• Motor Skills
• Appetite
• Memory
• Mood
• Pleasure
The endocannabinoid system is incredibly important due to its role in assisting and managing our body's homeostasis.
Homeostasis & CBD Oil
Homeostasis is the natural state of balance in our bodies. Our physiology needs to be in a constant equilibrium between polar opposites; infammation a n d a n t i - i n f a m m a t i o n , excitation and relaxation, catabolic and anabolic, and etc. These processes happen in different parts of the body at different times for different reasons, and every one of them have to maintain balance in order for us to maintain optimum health. CBD is known for its therapeutic effects, including it's role in assisting and managing homeostasis.
Bocannaco takes considerable pride in the quality of CBD oil we produce. To prove that our product is top tier, we send out for two 3rd party lab analyses. These analyses prove the oil has never been subjected to pesticides or been damaged with chemicals. Each bottle and lab report have a matching lot number so you can see the purity of our oil for yourself.
Pure & Powerful
Unlike chemically derived hemp oil, we do not remove just the cannabinoid from the plant. Bocannaco's hemp oil is extracted by a chemical-free process that invokes all of the plant's natural synergy. We extract the natural fatty acids, waxes, minerals, vitamins, and flavonoids to create a potent phyto-rich, broad spectrum, "as found in nature" supplement for your body. We call this the "entourage effect," which provides you the potential of hemp oil's most natural state. We are convinced this form of hemp oil is the most efficacious and takes advantage of the whole plant interacting with your endocannabinoid system, just as nature intended.
Fast Delivery System
We use a Nanoemulsion delivery system that is more effective than liposomal. Nutrient droplets are less than 100 nanometers which delivers Bocannaco's life enhancing power into your body.
1000mg Strength
Enjoy the high content of cannabinoids with absolutely no THC! For the same amount of strength and quality, you can't beat the price of our hemp oil.
Purest Oil
We're proud to provide you with an Organic, Non-GMO product of the purest quality that has No THC.
Laboratory Tested
We are the only company that provides you with a breakdown from two independent laboratories so you can see exactly what you're getting.
Pure Extraction
Unlike most competing products, our extraction process does not rely on using heat or chemicals that can damage the integrity of the necessary compounds.
Indigenous Process
A common practice in the hemp oil industry is to gather ingredients from multiple plants, creating a "Frankenstein" product. All of the ingredients in our oil come directly from the hemp plants.
To place an order, follow this link
*These statements have not been evaluated by the Food and Drug Administration. These products are not intended to diagnose, treat, cure or prevent disease.*